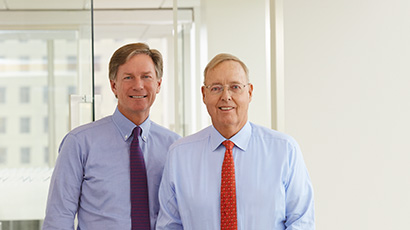 Steve Booth, President & CEO, provides a quick introduction of Baird's history and overviews some of the information you'll learn.

Click "Extras" below to listen to the introduction.

Our founding father, Robert Wilson Baird, insisted on "integrity in everything we do" as he guided the firm through its first 40-plus years. This mantra remains a key cornerstone to our firm yet today.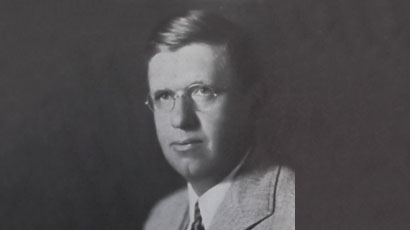 Mr. Baird was indeed tall, but it is his character that casts the giant shadow over the 95-year history of our firm – with traits that have sustained the firm in both robust and stressful times.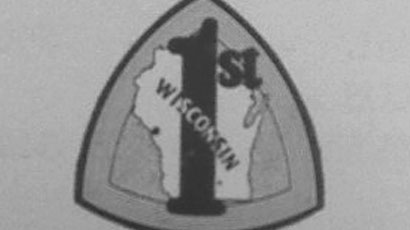 First Wisconsin Group was a three-pronged entity as depicted in its triangular logo. Robert Baird managed the bond effort: First Wisconsin Company. Many iterations of the name would follow, but this logo survived well into the 1930s.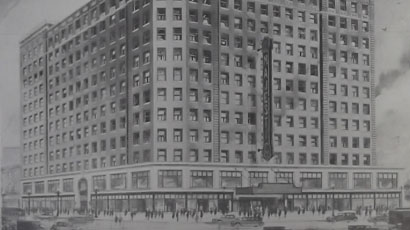 The First Wisconsin Company underwrote and sold bonds such as the Empire Building in downtown Milwaukee – still standing today as the Riverside Theater. This focus considerably eased the impact of the 1929 crash.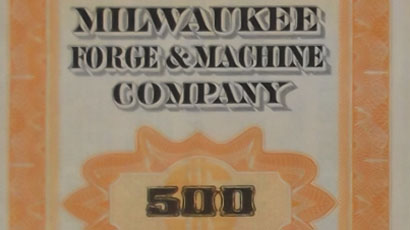 Our company underwrote bonds for Milwaukee Forge & Machine Company just before the market crash. That company celebrated its 100th anniversary in 2013, a testament to both firms for values that stand the test of time.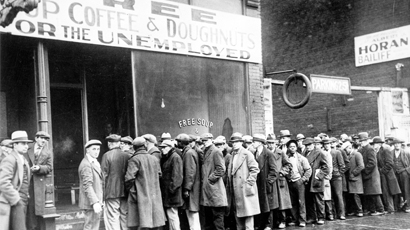 Hit but not wiped out by the Depression, Baird's management bought $1 million in common stock from our parent corporation, Wisconsin Bankshares, to allow us to control our own destiny. This forward-thinking, long-term approach would be repeated 70 years later.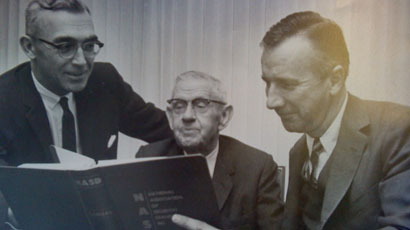 Clarence Bickel (left), Robert Baird (center) and Robert Haack (right) each served as chair of the National Association of Securities Dealers. Our firm contributed mightily to the success of self-regulation.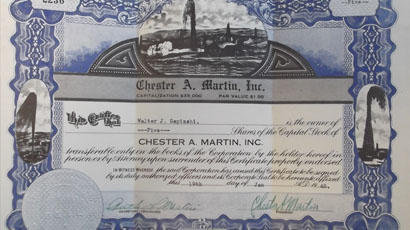 This stock certificate from 1945 was typical of the equities marketed in postwar America. It promised a small piece of the oil and gas industry that would spur economic growth in the 1950s and 1960s.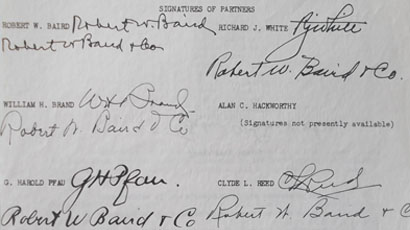 In 1948, 12 partners signed our firm's application to the New York Stock Exchange.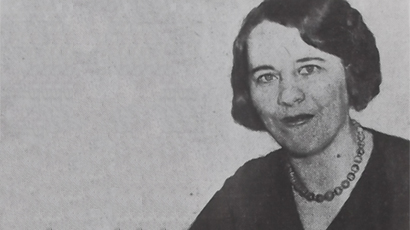 Frieda Mueller was one of 12 partners when Baird joined the NYSE in 1948. She was an example of Baird's values in action – performance with integrity and service to the community.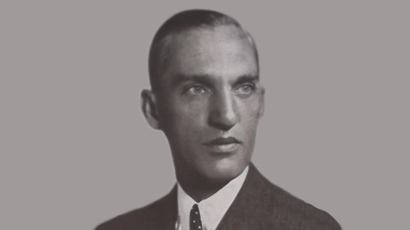 William H. Brand, our second President, had a harder edge to him than Mr. Baird, but – like Baird – he expected much of associates.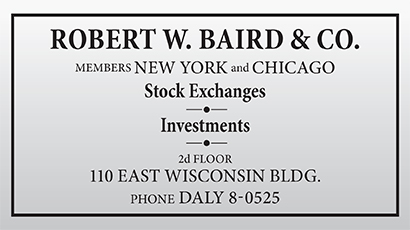 After World War II, Wall Street pushed for Main Street to buy into corporate America. Baird joined in that effort, advertising our expertise to guide the conscientious investor toward a responsible portfolio.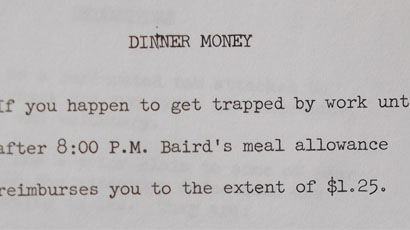 Our employee handbook from the late 1950s set the tone for benefits enjoyed by our associates. Our spirit has always been to help those in need because the happier and healthier they are, the better the work they do.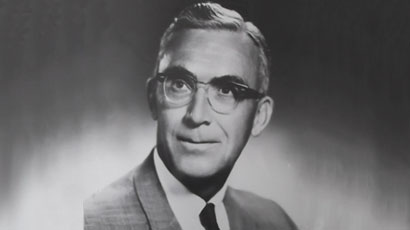 Bickel, known as "Bick," was an intellectual who loved solving complex issues and was passionate about investment banking.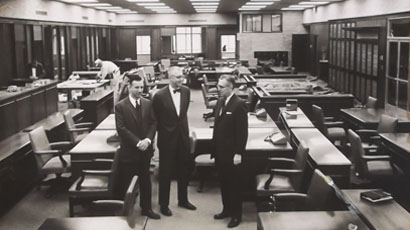 Baird partners Robert Haack, Carl Wilson and Clarence Bickel pose in our new offices in 1963. The 1960s were a time of significant growth for us.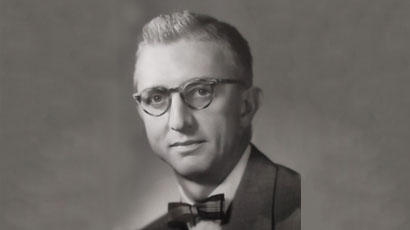 Carl Wilson was a basketball star in college and a man of the people at Baird. He vigorously pursued civic improvement campaigns and always sported a bow tie.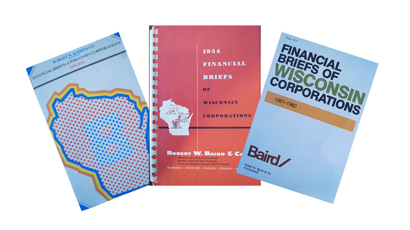 The Financial Briefs of Wisconsin Corporations highlighted companies in our own backyard bringing more Wall Street attention their way – helping provide more capital for local corporations and more investment choices for institutional investors.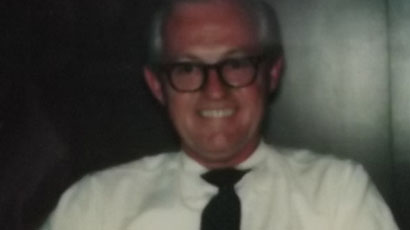 Baird was a second home for Brent Rupple, who faced the challenge of leading the firm during the recession of the 1970s. Rupple worked at Baird for his entire career.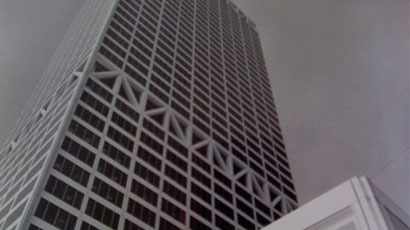 In 1974, we moved into the brand new First Wisconsin Center, leasing three floors and 66,000 square feet. More than 40 years later, it remains the home for our headquarters.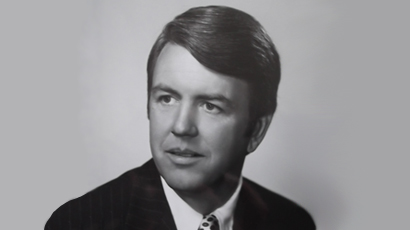 Fred Kasten joined the firm in 1963 and rose to the presidency in 1979. His steadfast insistence on values and culture helped Baird prosper when other firms failed to do so.

In Memoriam

The 1980s brought tremendous growth, but the firm still focused on our "clients come first" approach, as touted in these ad mock-ups from the period.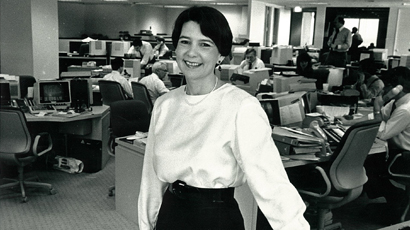 "Better Results from Better Research" was our tagline in the '80s. Judy Scott, one of our star research analysts, believed Baird did and does research better than anyone: "I really feel that we can know the companies in our area much better than somebody in New York..."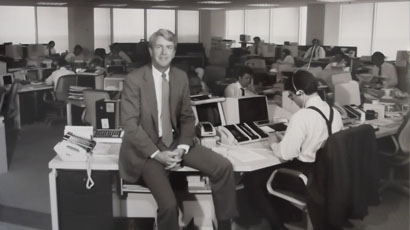 Our sixth President, Fred Kasten, provided calm leadership through the tumult of October 19, 1987 – a dark day for the market, but a time when Baird's culture shined brightly.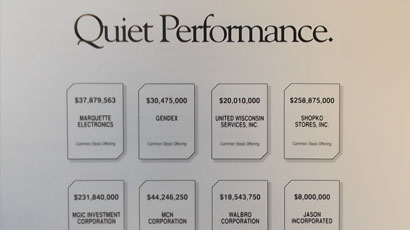 In this 1991 advertisement, we proudly summarized the equity capital raised by our firm during that year.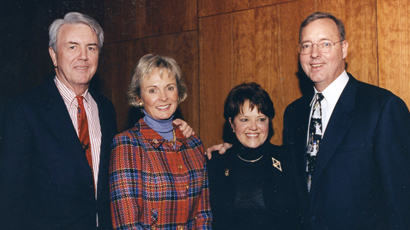 Fred and Suzie Kasten, Chris Rither (Executive Assistant) and Paul Purcell, Baird's next President.

Paul Purcell, Fred Kasten and Bryce Edwards, head of Private Client Group in the mid-1990s.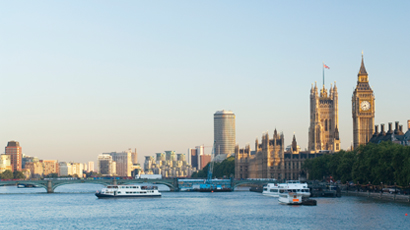 With the 1999 acquisition of London-based Granville, Baird was ever closer to realizing one of its goals: being the best middle-market firm in the world.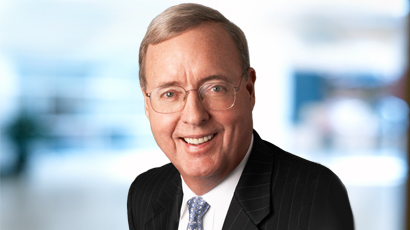 Paul Purcell was the driving influence for Baird becoming the best middle-market investment firm in the world and the best place to work for our associates, as recognized by FORTUNE magazine.
In Memoriam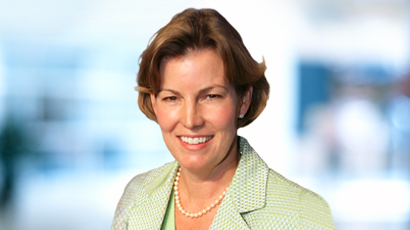 "How you handle the really hard things is what determines greatness," says Leslie Dixon, Chief Human Resources Officer.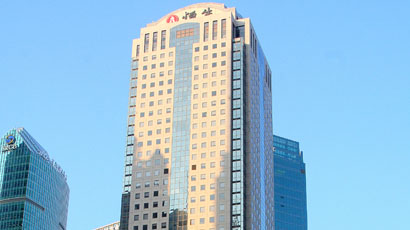 Baird Capital entered the Asia market in 2003.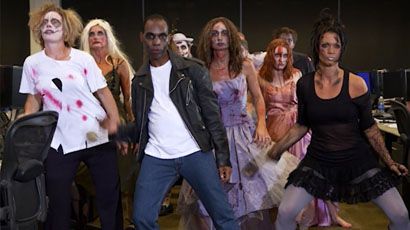 In 2011, Baird associates shot a music video, a "Thriller" spoof, and raised $9,000 for United Way. Everyone "checked their egos at the door" and danced for a great cause.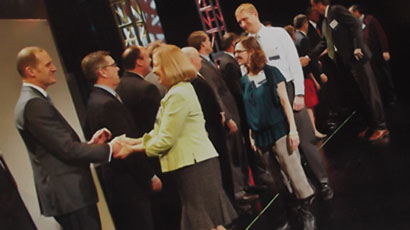 The story of stock ownership at Baird is a remarkable tale of spreading the wealth, illustrating our core values. Buying ourselves back from Northwestern Mutual in 2004 was a defining moment in that saga.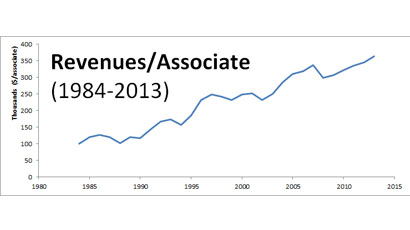 Baird has emerged stronger from each national and international economic downturn.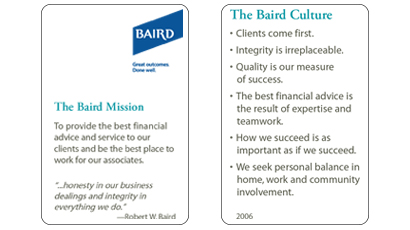 Sustaining culture is the responsibility of every associate. Our mission statement and cultural values are periodically reviewed by our Executive Committee. More than words on a plaque, they are a living experience we commit to for our clients and each other.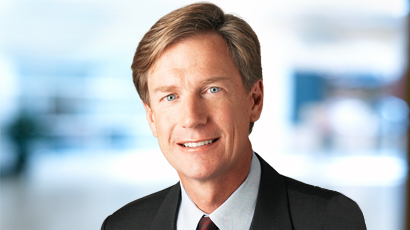 Steve Booth became our President in 2014 after leading our Industrial and Global Mergers & Acquisitions teams.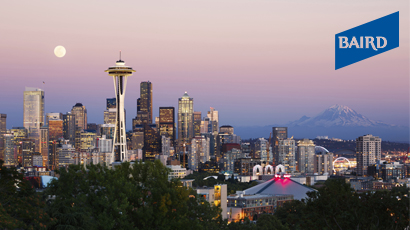 In 2014, Baird acquired McAdams Wright Ragen, Inc. (MWR), a Seattle-based firm with 85 Financial Advisors in seven offices throughout the Pacific Northwest. MWR's and Baird's cultures were hand-in-glove.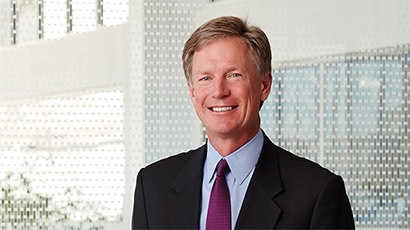 On January 1, 2016, Steve Booth succeeded Paul Purcell as CEO, concluding a thoughtful, multiyear transition that started in 2013.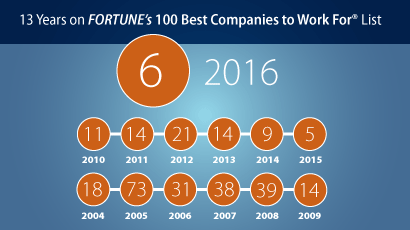 In 2016, we celebrated our 13th consecutive year on FORTUNE'S 100 Best Companies to Work For® list. However, we know we have not arrived. We continue to grow, seek out the best for our clients and each other. It is a never-ending journey!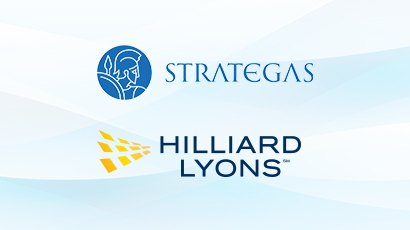 Ever-changing needs in the market place demand that we continue to expand and enhance our expertise and offerings for individual, municipal and institutional clients.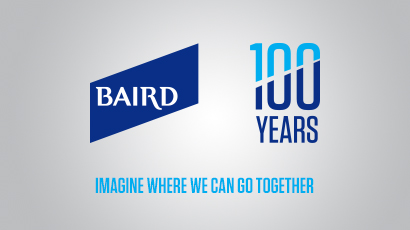 Baird celebrates 100 years of client service and community involvement!